Yahoo is Going Down – Beaten by YouTube – Decreased Popularity
Did you realize this? Youtube is now number 3 on Alexa's top 500 sites on the web (taking Yahoo's position. I applaud Youtube for it's increasing popularity and how it impacts it's users. But have you realized how Yahoo has been losing popularity over the years.  It came from being the number 1 mosted visited site on the web (according to Alexa) to being the number 4. Who would have thought Yahoo would have been beaten by a video sharing site! I was surely surprised.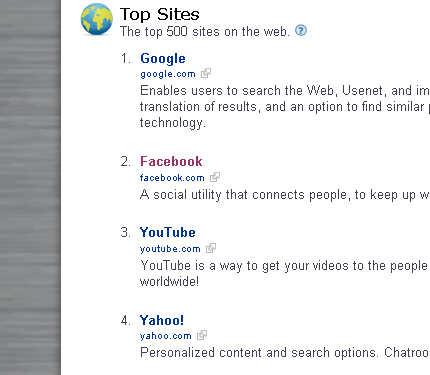 Could Alexa's Site trafficking system be malfunctioning? Alexa's site trafficking system has received harsh criticism over the years. I still can't believe that Youtube surpassed Yahoo. Although I have a Youtube account, I also use the Yahoo Email and Yahoo answers daily. I am a very active user of Yahoo. Anyways, in order for Yahoo to be even close to number again, it'll have to take the Google approach. I can't think of any other way. But it seems to me Yahoo is becoming more like Microsoft. Do I think Yahoo has a chance of regaining it's title as number 1, it's possible. But I definitely think it has a chance of regaining it's title as number 2 or 3.
What advice I have for Yahoo? Yahoo needs to regain it's number 2 position. In order to do that Yahoo needs to reinvent itself. Take the Google Approach.
Topic: Internet/ Web, YouTube, Google, Yahoo, Social Streams
Tags: Google, youtube, yahoo, popularity, alexa, stat, ranking

Author
Hiroshi is a senior web developer, entrepreneur, founder and CEO of TechMynd. You can subscribe to TechMynd's newsletter to receive free software, giveaways, technology news and updates in email. Become our fan on Facebook, follow us on Twitter. Got any question? Contact us or visit us on our Google Profile.