6 Best Free Powerful Alternatives to Adobe Photoshop
Why use Adobe Photoshop when there are many free alternatives to it are available to use freely? Adobe Photoshop is not a cheap solution for image editing and the program is also damn heavy. It eats up a lot of RAM and CPU to do the tasks. Here are some of the cool image editing solutions available free for every professional designer or illustrator.
Gimp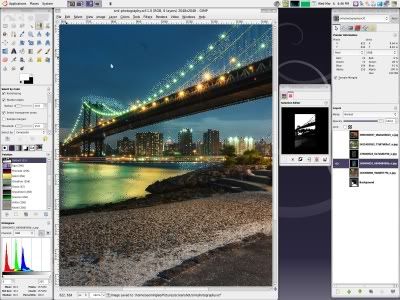 GIMP is a free software raster graphics editor.  Developed by the Gimp Development Team. So far in my opinion is the best free alternative to Photoshop.   I have tested Gimp and have edited images with The Gimp and the results were quite satisfying.  Gimp also has a very similiar interface to Photoshop and has many of the the same features(but Photoshop is way more advanced), this is why I call Gimp "Photoshop Lite".   Although Gimp is a simplified version of Photoshop,  It's still pretty difficult to learn.  I still have trouble using The Gimp.  I only use it to edit my images and create simple logos.   Don't be fooled, although it's not as powerful as Photoshop, Gimp allows you to create powerful pieces of artwork.
Paint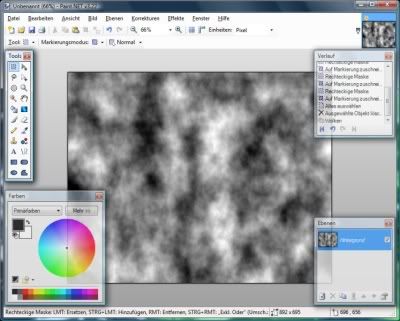 Paint is a freeware raster graphics editing program for Microsoft Windows, developed on the .NET Framework. Paint is also another good alternative to Photoshop.  Although, Gimp is a little more advanced than Paint.net, Paint.net is much more easier to learn with  and it loads much faster.  I found myself to use Paint.net more than Gimp simply to edit and resize images.  You can still create wonderful pieces of artwork even though it's not as advanced as Gimp.
Splashup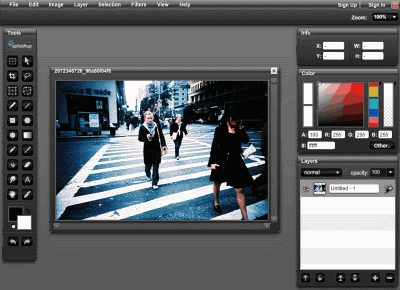 Splashup is a powerful online browser editing tool and photo manager developed by Faux Labs. Why did I include this one on the list?   You can use it online!!!  Now you don't need  to download any graphics editor, just use Splashup!   Although I haven't tested this editor yet,  I'll leave it to you to test it out.  Other than that, I got a chance to view the interface and I was impressed.
Pixia
Pixia is a freeware bitmap graphics editor program for Windows. It was originally designed for the anime/manga community but has also been used in other branches of art. Besides the primary Japanese interface, it is also available in English, French, Italian, Spanish, Hungarian, Chinese Simplified, Chinese Traditional, Polish, Korean and German. The program supports multiple layers, transparency effects, standard file formats and a number of RGB file formats including .PSD. The main file extension used by this program is .PXA. The program also has a native support for Wacom tablets, for example the 4.2a version added support for Wacom Bamboo tablets. Go to the following link and make sure you download English version.
VCW VicMan's Photo Editor
VCW VicMan's Photo Editor is a versatile image editor with an intuitive interface and a wide variety of features. This powerful application is user friendly, offering simple image editing, high productivity and easy customization. Now you don't have to fork out hundreds of dollars for a quality image editor. This award-winning application is freely downloadable and comes with a wide range of essential features for both novice users and professional designers. With VCW VicMan's Photo Editor you can refine your digital photos, draw artwork naturally and effortlessly, producing superb graphics for the web. Important features include:
30+ image file formats support
Near 100 filters and effects
Save images as JPG, GIF (PRO version only), BMP, TIFF, PCX and TGA
Import images from any TWAIN source
Use Photoshop compatible filters.
Inkscape
An Open Source vector graphics editor, with capabilities similar to Illustrator, CorelDraw, or Xara X, using the W3C standard Scalable Vector Graphics (SVG) file format. Inkscape supports many advanced SVG features (markers, clones, alpha blending, etc.) and great care is taken in designing a streamlined interface. It is very easy to edit nodes, perform complex path operations, trace bitmaps and much more.
Topic: Downloads, Freewares, softwares, Windows Softwares, What More
Tags: Photoshop, software, adobe, graphics, gimp, alternatives, gimp lite, Gimp alternative, gimp alternatives